"The time of the month"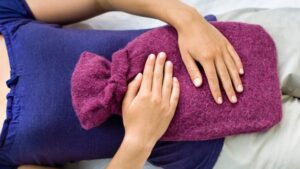 Many ladies dread those particular few days, some even up to a week or more, due to the discomfort and inconvenience painful menstruation causes them. To some ladies, the pain suffered may be severe enough to interfere with your daily activities. If you happen to experience cyclic abdominal pain, pelvic pain and/or low back pain accompanied by nausea, bloating, diarrhoea and constipation, chances are what you are experiencing is known as primary dysmenorrhoea.
What is dysmenorrhoea?
Dysmenorrhoea is more commonly known as painful periods whereas primary dysmenorrhoea is defined as cyclic pain accompanying menstruation in the absence of any underlying abnormality. General physical examination and patient history are usually sufficient to rule out the involvement of organic pathology, which includes conditions such as endometriosis, ovarian cysts, pelvic infections, and uterine fibroids. Such pain that is caused by a disorder in the woman's reproductive organs, is defined as secondary dysmenorrhoea.
What is primary dysmenorrhoea and its symptom?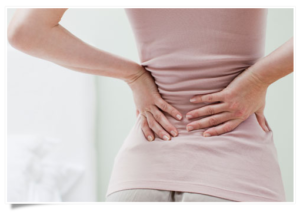 Primary dysmenorrhoea presents as common recurring menstrual cramps and the pain ranging from mild to severe usually begins one to two days before or as menstrual bleeding begins. It is usually felt in the lower abdomen, back and lower limbs. Apart from a dull ache or cramp-like pain, some ladies suffering from dysmenorrhoea often experience symptoms such as nausea, diarrhoea or constipation, headache, lightheadedness, and urinary frequency.
What causes cramps/pain?
As part of normal physiology during your menstrual period, the uterus contracts to help expel its lining when no fertilisation of the oocyte (egg) occurs. A hormone-like substance called prostaglandin, which is involved in pain and inflammation, causes uterine muscle contractions. It is suggested that excessive production and release of prostaglandins may cause severe muscle contractions that constrict the surrounding blood vessels and thus, briefly cutting off the supply of oxygen to the muscle tissue, resulting in cramp-like pain.
How can I relieve menstrual pain?
The most common and widely used treatment for primary dysmenorrhoea includes NSAIDS (non-steroidal anti-inflammatory drugs) which inhibits excess prostaglandin synthesis. (1,2) Besides that, oral contraceptives and other prescription drugs are also alternative options to NSAIDS. Non-pharmacological methods comprised of transcutaneous electrical nerve stimulation (TENS), acupuncture, and exercise are said to stimulate endogenous opioid pain-modulating systems. (3,4,5) Home remedy-wise, heat packs or hot water bottles are handy to alleviate low back pain or abdominal pain. Massage with essential oils was also said to be effective in reducing the amount and duration of pain. During menstruation, it is advisable to avoid foods that cause bloating and water retention. These foods may include salty and fatty foods, alcohol, carbonated beverages, and caffeine.
On the other hand, chiropractic spinal manipulation has become more widely recognised as an alternative option to help relieve those awful muscle cramps and back pain.
Chiropractor menstrual pain relief
Specific spinal manipulation to correct any restriction in movement of the spinal joints (thoracic, lumbar and sacral segments) consequently results in reducing somatic pain arising from biomechanical joint dysfunction.
In one study, it was shown that significant pain regression during menstrual cycle had been achieved by the use of spinal manipulative therapy (SMT) indicated in women with primary dysmenorrhea with co-existing functional disorders of lumbosacral (LS) spine. (6) LS spine disorders, by activation of the nociceptive (pain arising from stimulation of nerve cells) and vegetative system, can induce referred pain and reflex disturbances of pelvic organs (also known as somatovisceral reflexes). Whilst significant improvement or abatement of pain during the menstrual cycle is often achieved with adequate therapy of co-existing vertebral disorders in women with primary dysmenorrhea, it is important to recognise latent or manifest vertebral disorders in dysmenorrheic women using clinical examination.
Many female subjects in a study reported a reduction in premenstrual syndrome symptoms (cramps, fatigue, migraines, etc) upon receiving chiropractic spinal manipulation within a week before menstruation for 3 cycles. (7) It was also reported in a study, improvements in pain perception of low back pelvic pain, pressure pain threshold and serotonin levels in the experimental group of women suffering from primary dysmenorrhoea who received pelvic manipulation. (8) In another study, it was reported immediately post-treatment, the perception of pain and the level of menstrual distress were significantly reduced by spinal manipulative therapy. (9) A randomised, clinical trial also reported a relatively high incidence of spinal dysfunction (vertebral disorder) exists in premenstrual syndrome sufferers compared with a group of non-PMR sufferers. It is suggested that spinal dysfunction could be a causative factor in PMR and that SMT may offer an alternative therapeutic approach for PMR sufferers. (10)
There is no doubt that from numerous case studies and preliminary research studies, there is some evidence that suggests chiropractic care may be an alternative treatment modality for relieving the pain and distress of primary dysmenorrhea and its associated musculoskeletal symptoms. However, we must take into consideration that further studies with more participants and over a longer study period are required to study the question of the placebo effect. It is also important to note that we acknowledge that individuals respond differently and all forms of treatment have the potential for adverse events.
Our chiropractors would like to hear from you or anyone you may know suffering from menstrual pain. Although chiropractic is not a cure for menstrual pain, however as conservative therapy, it may be a viable option as co-management with other common medical interventions for menstrual pain. Rest assured that if it is not within our capabilities to provide you with the best treatment solution, we refer practice members to other healthcare professionals.
Kindly contact us at 03 8802 1519 for more information or to make an appointment. The clinic is open 7 days a week.
References
Rozenwaks, J. and Seegar-Jones, G. (1980). Menstrual pain: its origin and pathogenesis. The Journal of Reproductive Medicine, October 25(4), pp.207-12.
Spears, L. (2005). A narrative review of medical, chiropractic, and alternative health practices in the treatment of primary dysmenorrhea. Journal of Chiropractic Medicine, 4(2), pp.76-88.
Wang, S., Lee, J. and Hwa, H. (2009). Effect of Transcutaneous Electrical Nerve Stimulation on Primary Dysmenorrhea. Neuromodulation: Technology at the Neural Interface, 12(4), pp.302-309.
Proctor, M., & Farquhar, C. (2006). Diagnosis and management of dysmenorrhoea. BMJ, 332(7550), 1134-1138. doi: 10.1136/bmj.332.7550.1134
Latthe, P. and Champaneria, R. (2011). Dysmenorrhea. [online] NCBI. Available at: https://www.ncbi.nlm.nih.gov/pmc/articles/PMC3275141/ [Accessed 14 Aug. 2017.]
Grgic, V. (2009). Dysmenorrhea induced by lumbosacral spine disorders. Pathogenesis, diagnosis and therapy with special emphasis on spinal manipulative therapy. [online] NCBI. Available at:https://www.ncbi.nlm.nih.gov/pubmed/2003029/ [Accessed 14 Aug. 2017
Walsh, M. and Polus, B. (1999). A randomized, placebo-controlled clinical trial on the efficacy of chiropractic therapy on premenstrual syndrome. Journal of Manipulative and Physiological Therapeutics, 22(9), pp.582-585.
Molins-Cubero, S., Rodríguez-Blanco, C., Oliva-Pascual-Vaca, Á., Heredia-Rizo, A., Boscá-Gandía, J. and Ricard, F. (2014). Changes in Pain Perception after Pelvis Manipulation in Women with Primary Dysmenorrhea: A Randomized Controlled Trial. Pain Medicine, 15(9), pp.1455-1463.
KokJohn, K, Schmid, DM, Triano, JJ, and Brennan, PC. (1997) The effect of spinal manipulation on pain and prostaglandin levels in women with primary dysmenorrhea. Complementary Therapies in Medicine, 5(3), pp.189-190.
Szilagyi, I. (2000). The frequency of positive common spinal clinical examination findings in a sample of premenstrual syndrome sufferers. Journal of Manipulative and Physiological Therapeutics, 23(5), pp.0365-0366.
Gray H, Standring S, Ellis H, Berkovitz BKB. In: Gray's anatomy: the anatomical basis of clinical practice. 39. Standring Susan, Ellis Harold, Berkovitz Barry KB, et al., editors. Edinburgh; New York: Elsevier Churchill Livingstone; 2005